Product Variant Import/Export
On this page:
What is Product Variant Import/Export
How to use the Product Variant Import/Export
What is Product Import/Export
Product Variant Import/Export allows you to update your product variant fields on mass using Excel. This is a powerful tool and should be used with care and caution. If you have any questions, do not hesitate to get in touch.
How to use Product Import/Export
Product Variant Import/Export allows the data you've put into the website to be exported into a singular CSV file. This is useful for:
Updating variant prices on mass
Updating variant codes (EAN numbers, VAT codes, offer prices) on mass
Important: This cannot be used to add variants and requires that all your variants have unique codes (SKU's) attached prior to exporting. If the variant does not have a code, this import/export tool will not help you update the product variant
Product Variant Import/Export
Go to My Site > Product Import/Export. The first section you'll jump to is schema.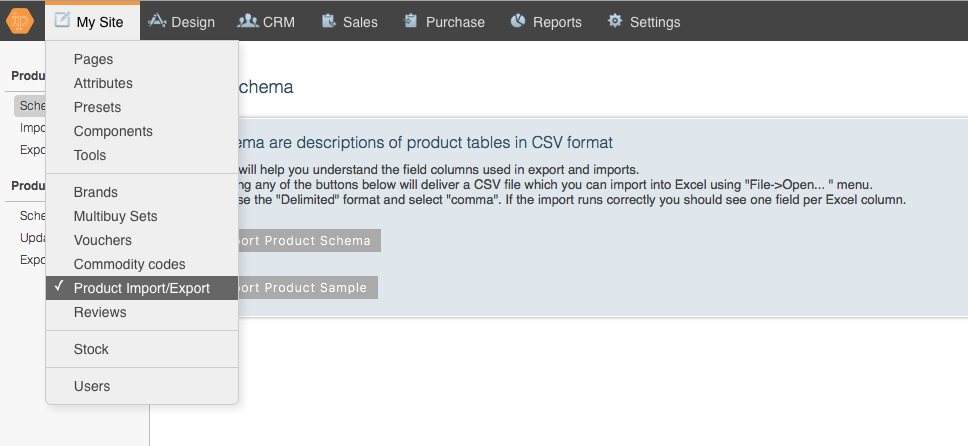 The schema allows you to download a copy of the required fields, prior to importing and exporting. It's a great way to help you understand the columns which are required, to ensure your imports and exports run smoothly.
The next section to go to is the Export. Here you'll be able to export your variant fields. Click Export and you'll get a CSV file of all of your variants.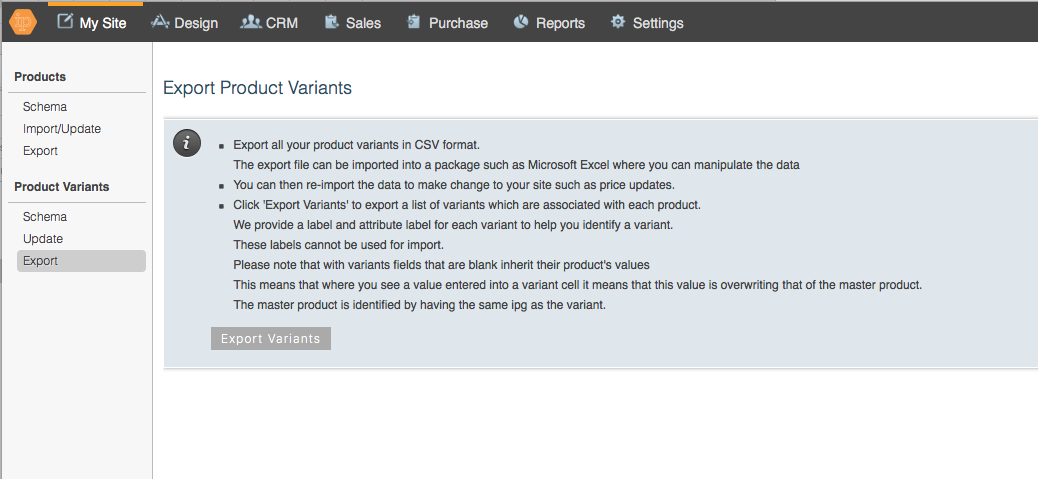 The next step is to open your CSV in Excel. Remove all columns that you do not wish to edit however, it is essential that you leave the id column (as this is the column the import uses to recognise the product variant).
In Excel, you can update you prices or other variant details by amending the values in the correct column - just ensure you have the correct headers and if you are updating prices, remember whether or not your website is set to enter prices including or excluding VAT and be sure to align with this! (If you're unsure, simply ask the KhooSeller team)

Once you have your updated CSV file you can upload this into the website.
Click Product Variants > Update and select your file
Check the fields and click upload: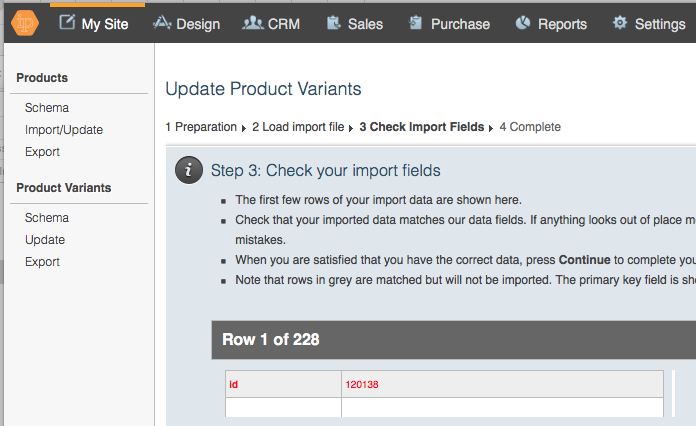 You have now updated your product variants.