Integrating with Google Analytics
Overview
Integrating with Google Analytics can help you track your website visitors.
To do this, you will need to have a Google Analytics account and your iPages admin area open.
Find your Tracking Code in Google Analytics
Log into your Google Analytics account.
Click Admin > Property Settings.
Under 'Basic Settings' you should see a Tracking ID. Usually, they come in the form of "UA-38202050-1"
Once you have this code, highlight and copy the code.
You may receive some code that looks like this;
the Tracking ID will be in the gtag config bracket (highlighted above).
Add the conversion code to your iPages website
Log into your iPages website.
Click Settings > Integrations. Click on the pencil icon next to 'Google Analytics'
Enter the fields given within the Google Analytics code:
If you are eCommerce, check the box saying "use eCommerce tracking".
Click "Ok".
Your Google Analytics Conversion tracking is now setup.
Note: If you would like to track eCommerce you will need to set this up in Analytics too and this depends on your Analytics setup.
Adding a specific script to the head area of your site before the body.
1. Go to My Site > Pages
2. Make sure that you have 'My Site' selected in your tree view on the left. This puts you at the root of your site.
3. Click on 'Default Head Tags' where you can put your scripts into the Custom Head Text input field. In this field you will generally put scripts with angled brackets wrapping them such as . The Custom Head Script is where pure jQuery can be placed. Usually the scripts from Google need to go in the Custom Head Text input.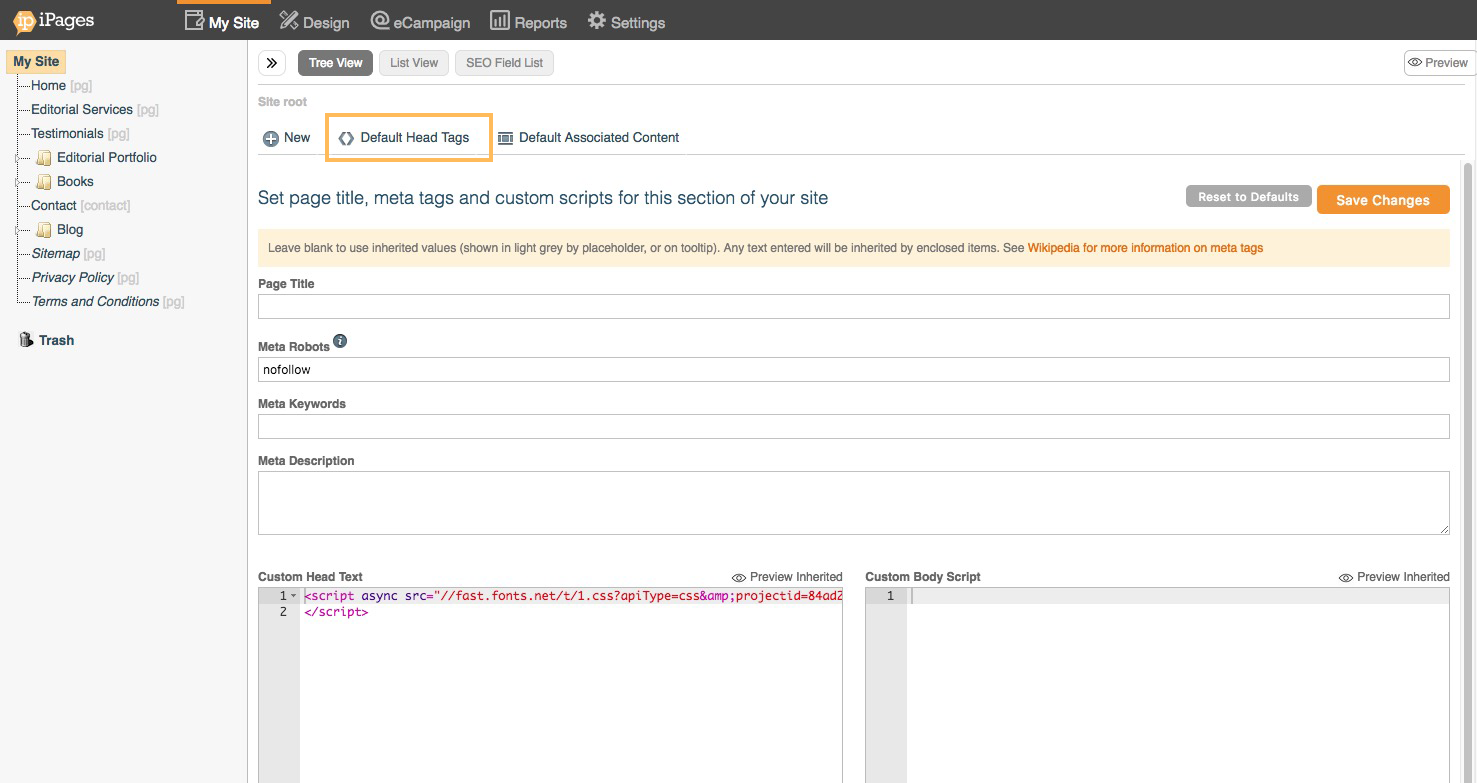 What about page specific tracking codes?
Each individual page on your site also has a head tags area where you can place this code and it will overwrite the default code for the site for this page.