Page Visibility Permissions
Visibility Functions
Page visibility settings control how pages are able to be viewed on your site.
This can be broken down into Publishing Options and Navigation Options.
Publishing Options
Pages have to be published to be seen on the front of a website. Publishing options do not affect whether you can edit the page in the admin area.
Previously, to restrict access to certain pages or sections of your website, you required additional "Access Control" features on your website. Now KhooSeller allows all users to benefit from being able to control access to pages through 'publishing' the page to selected groups of people.
The Publish options are:
Everyone - everybody will be able to see this page
Only users with login - only users with a login (to your website front end) will be able to see this page
Nobody - no one will see this webpage.
Navigation Options
To control whether a page is visible in your website navigation, use the options:
'Hide menu item': This hides the page/product or folder from the menu view (on the website front end)
'Hide list/tile view item': This hides the page/product or folder from the view in the list/tile view. The list/item view is when you have a list of products/pages which you let your users scroll through, click here for an example.
Editing Visibility Permissions
Visibility Functions are controlled by going to Edit > Info and can be edited when a page is selected under Tree View (as shown below).

Visibility settings can be found in the Info section in the bottom third section.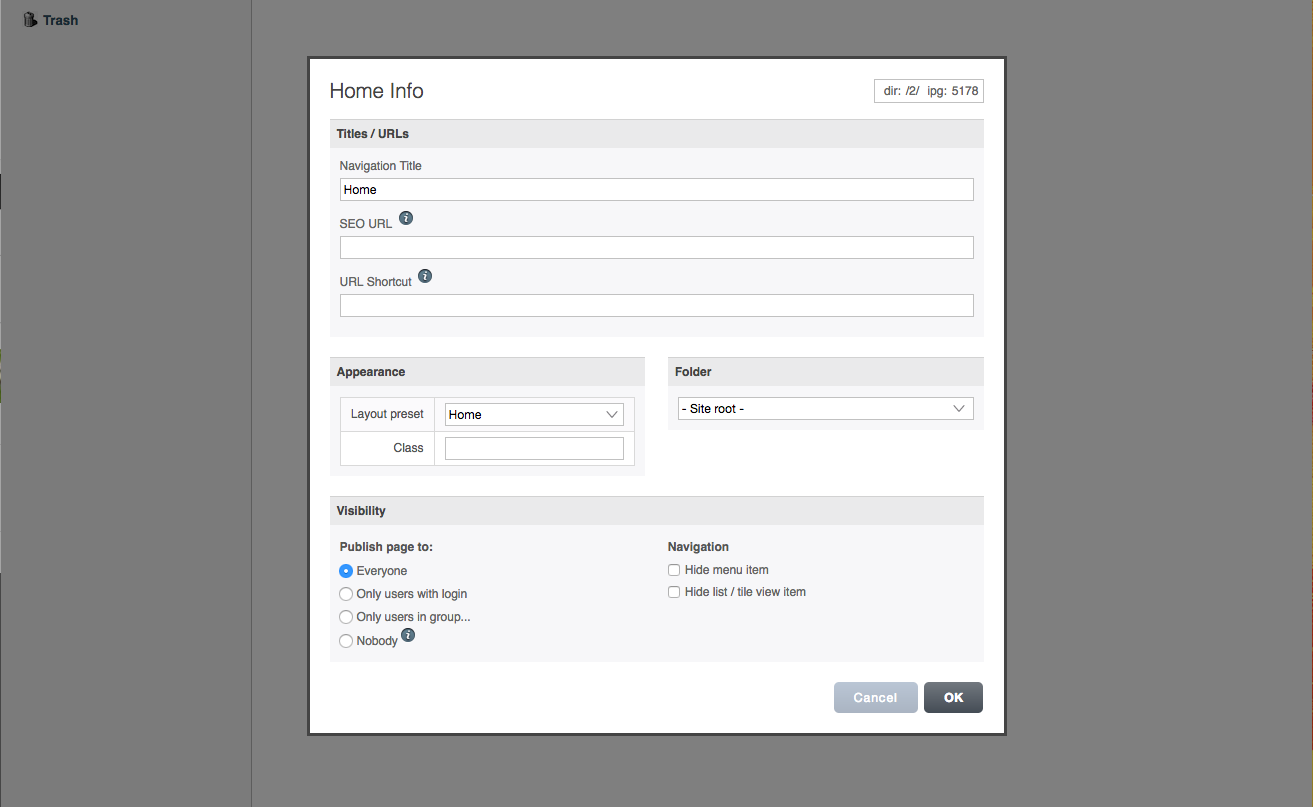 To edit the visibility settings, simply check the desired fields beneath "Publish page to:" and "Navigation" and press "OK".
Folders: To apply all of the visibility options to all pages within a selected folder, simply check "Apply to enclosed pages" before pressing "OK".