Associated Content
Introduction
Each page is divided into sections: the main page body, the header, the footer, the left and right columns etc. All content which isn't the main page body and which stays the same across several pages is called 'Associated Content'.
Each individual section such as the footer can be edited and also has the ability to be shown or hidden, giving you complete control of your website and it's structure.
However, to save you setting up each page from scratch, KhooSeller uses an 'Inheritance' model whereby the 'Associated Content' is set by the site root (usually the homepage) and then you have the ability to override this at either folder level where it will cascade down and be inherited by each page within that folder, or at an individual page level giving you complete control of every page within your website.
Associated content comes in two forms. Default Associated Content and Associated Content.
What is default associated content?
Default associated content is set at the root level of your website and cascades down through your entire site. Anything you put into the different sections here will be inherited by any new pages, folders, products etc that you make. This saves you time so you don't have to set up every page from scratch.
Using default associated content
A common and essential use of the default associated content is to set the header of your website, which may include your logo, the basket and any other additional information you see fit.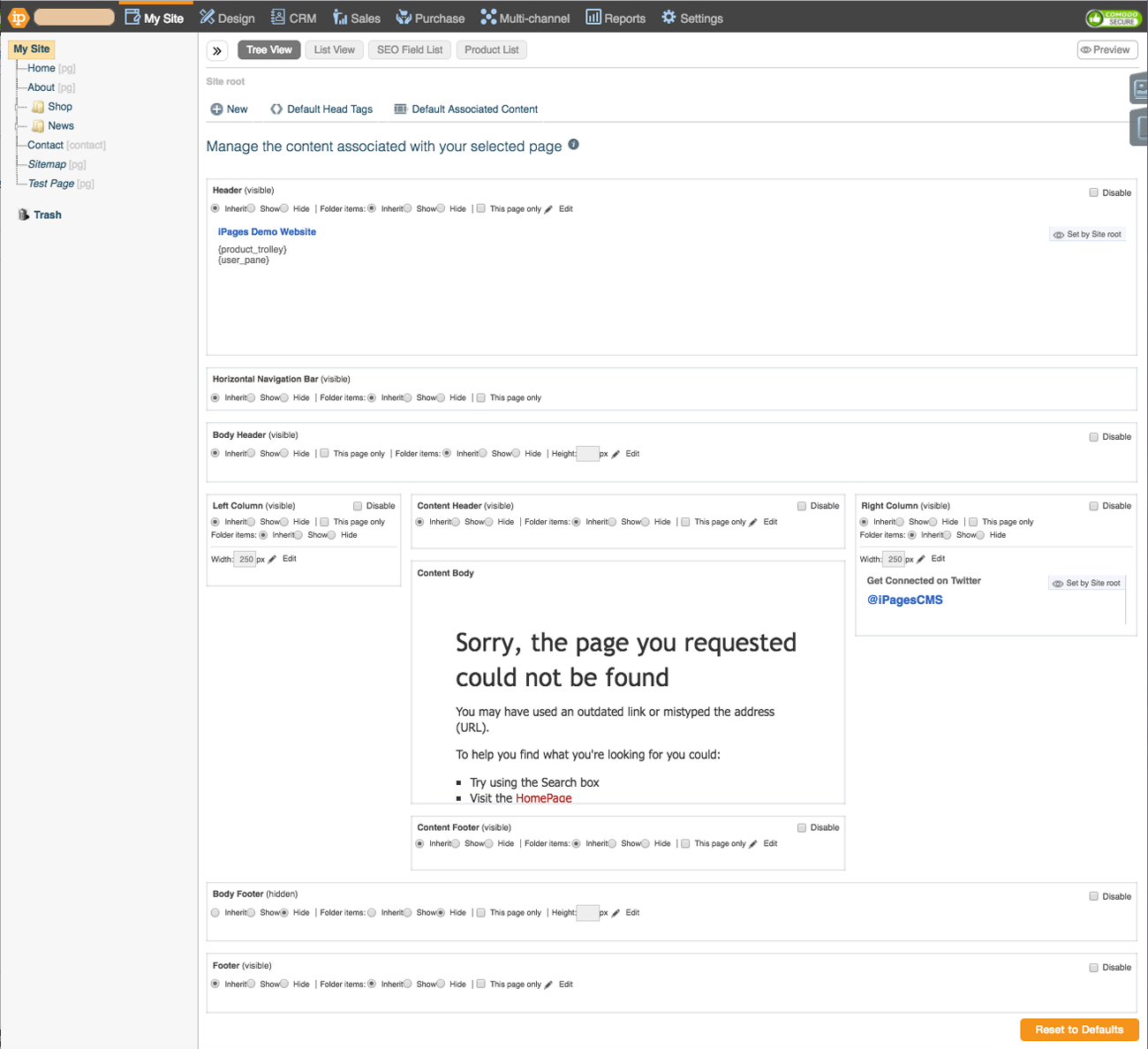 Inherit
Setting the section to inherit will ensure all child elements inherit the default associated content values.
Show
Setting the section to show will make the section show and will be inherited by child elements.
Hide
Setting the section to hide will make the section hidden and will be inherited by child elements.
This page only
Combining hide or show with this page only will make the section hidden/shown for that page only and will be inherited by child elements.
Edit
Clicking the edit link will allow you to insert some content into the section.
Height / Width
Changing these values will change the height and width of the section accordingly and will be inherited by the child elements.
Disable
Checking this checkbox will disable that section completely and will be inherited by the child elements.