Understanding Attributes
On this page:
Overview
Understanding Attributes
Overview
Attributes allow customers to shop by colour, size, price, and any other product feature you choose. Attributes form product variants and also control the searchable attribute filters.
Attributes can also be used on pages to help your web visitors find navigate your pages faster. This can be particularly important for blogs or podcasts.
To add attributes to your website, there is a three stage process:
Understand how attributes work (below)
Add your attributes to your products
Once you have added attributes to your products you can then:
Understanding Attributes
Attributes are like tags that tell a product or page what it contains. For example, a pair of shoes may be brown and available in sizes 5 and 6. The product should show up if a customer selects brown, size 5 or size 6 or any combination of the above.
Information pages can also be tagged with an attribute such as a subject area to help people find information quickly on your website.
To view and manage your attributes, you have a 'Master Attribute list' (below) which will allow you to create various types of attribute 'sets' for different purposes.
This can be found under My Site > Attributes, on the right hand side: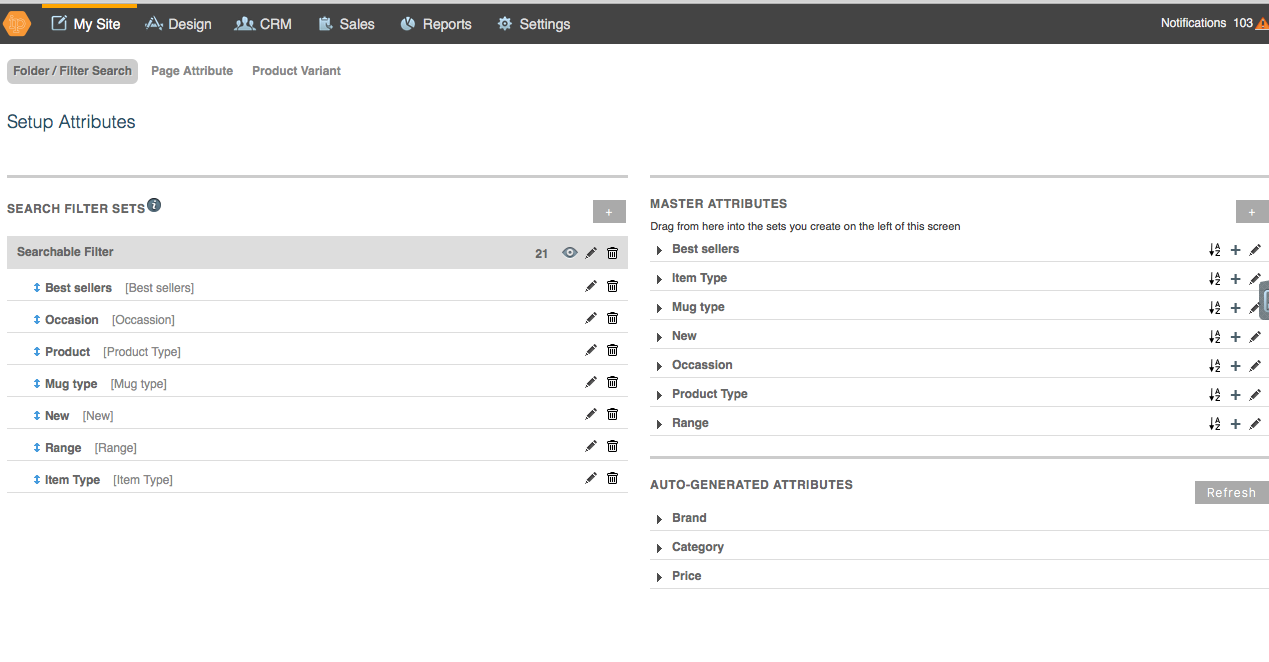 Attributes function on a few levels:
Auto-generated Attributes: These are created by the system e.g. Brand, Category, Price.
Product Variants: These are created by you using your Master Attribute list.
Page Attributes: Again, these are created from your Master Attribute list and are useful for tagging blog posts or information pages.
Searchable Attributes: For helping your users find your items quickly.